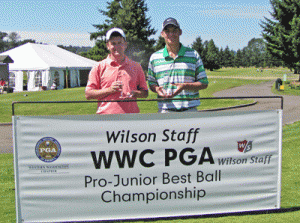 Assistant Tam O'Shanter professional Chas Holmes and junior Grant Cole made two eagles and eight bridies en-route to a tournament record 60 gross best ball in the 2014 Wilson Staff Pro-Junior Best Ball at Riverbend GC on August 6.
Meridian Valley teaching professional Brian Thornton and junior Alex Goodell won net honors with a sparkling 55.
Thanks go out to Riverbend GC for hosting the event and to Title Sponsor Dave Scholz and Wilson Staff for providing nice tee prizes for all the players.
2014 Cutter & Buck WWC PGA Pro-President
Presented By:
Pacific Golf & Turf – EZ-GO
Salish Cliffs GC
Thursday, June 5, 2014
Whidbey and Maplewood Teams Tie for Low Gross
Snoqualmie Falls Takes Net & 4-Man Honors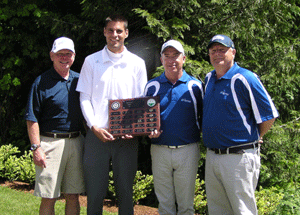 David Phay and Tom Ford of Whidbey G&CC tied with Mike Toll and Brian Espe of Maplewood GC at 6 under par 66 to win the gross crown in the 2014 Cutter & Buck WWC PGA Pro-President Championship.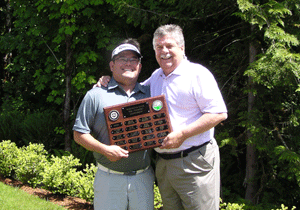 David Doty and Mike Hovey of Snoqualmie Falls GC repeated with the net crown for the second straight year, firing a sparkling 12-under par 60.  Along with Board partners Tom Reid and Lee Baldwin, they also won the 4-man team competition at 122.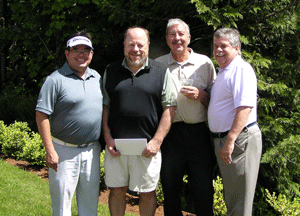 Thanks go out to Title Sponsor Bryan Dickson and Cutter &Buck; presenting sponsors Pete Trudeau and Eric Bowen of Pacific Golf and Turf/EZ-GO; and presenting sponsor Bryan Dickson and Maui Jim Sunglasses.  Thanks also go to David Kass and the  Salish Cliffs GC for hosting the event the second straight year.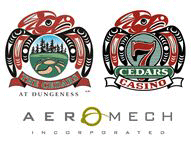 2014 7 Cedars Senior Washington Open
The Cedars at Dungeness
May 27-29
SOVAY WINS 7 CEDARS SENIOR WASHINGTON OPEN
Tom Sovay of The Golf Club at Redmond Ridge rode opening rounds of 65 and 67 to a 5 stroke lead, then held on with a final round 1-under par 71 to fend off hard charging Tacoma Firs professional Todd Erwin by 3 strokes and capture the 15th annual 7 Cedars Senior Washington Open Championship.   Erwin began the round 10 stokes back but fired a tournament best 64 to grab the second spot.  Jeff Fought of Black Butte Ranch shot consistent rounds of 69 each day to finish alone in 3rd place at 207.  Tom Brandes of Rainier G&CC and Mike Kloenne of Columbia Edgewater CC tied for fourth place and low amateur at 208.  It was Brandes' 6th low amateur finish in the tournament, one of which was also the overall championship.  Seven-time defending champion Jeff Coston opted out of the tournament after he made the field for The Principal Charity Classic on the Champions Tour this week.
Sovay's team of Kevin Burnett of Mill Creek CC, Rich Fong of Aldarra GC and Tony Conti of Harbour Pointe GC won the team championship with a 37-under par 251 for two day competition.  Bruce Stewart of Arrowhead GC and his team of Brandes, Tom Phillips of Seattle GC and Alex Stamey of Everett G&CC came in second at 256.
Thanks go out to Bill Shea and his staff at the Cedars at Dungeness and Jerry Allen and the 7 Cedars Casino Resort for hosting and sponsoring the event for the eighth straight year; and to Tony Weiderkehr and Aeromech Inc. for their presenting sponsorship.