15th Annual Hagen Cup Matches
Heron Lakes GC
October 16, 2014

The Oregon senior professionals won the last six singles matches to close out a decisive victory over the Western Washington seniors in the 15th annual Hagen Cup Matches.  Mike Buss, Ray Comella, Ted Westling, Kevin Coombs, Tom Hinton, and Zdravko Barbic each won all three of their matches for Oregon.  Neal White of Wing Point G&CC was the only Western Washington pro to complete a sweep.  The matches will return to the Home Course in 2015, and the Western Washington team will try to reverse the outcome!!

Club Car Chapter Championship

Ping Pro-Assistant Championship
Presented by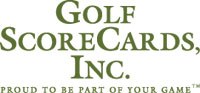 Broadmoor GC
October 13 &14
TIM FEENSTRA, JEFF COSTON, CRAIG WELTY & BRIAN BALTZER
TAKE TITLES!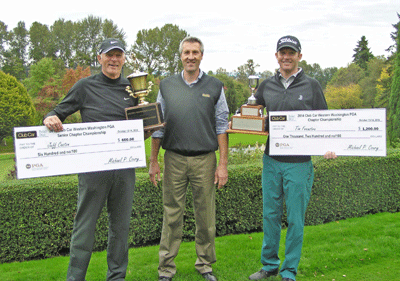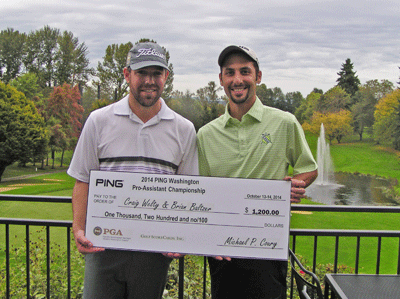 After staking himself to a big lead with an outstanding first round 62, Tim Feenstra of the host course Broadmoor Golf Club, held on with an even par 70 to narrowly edge Shane Prante of Fort Steilacoom GC by a single stroke.  Feenstra's opening round magic included 10 birdies, 2 bogeys and just six pars!  In his bid to catch Feenstra, Prante closed with a final round best score of 65.
Jeff Coston of Semiahmoo G&CC won the Senior Championship at 1 under par 139. Tom Sovay of the Golf Course at Redmond Ridge was two back at 141.
Craig Welty and assistant Brian Baltzer of Skagit G&CC won the Ping WWC Pro-Assistant Championship with rounds of 61-64.  Host Professionals Dan Hill and Feenstra finished second at 128 after opening the tournament with a 10 under par 60!
Thanks go out to Dan Hill, the staff and members of Broadmoor GC for hosting and providing a wonderfully conditioned golf course!  Thanks also go our to Title Sponsors Erwin Huffer and Club Car; Bob Engle and Perfect Drive Golf and Utility Vehicles; George Houlihan and Ping; and to presenting sponsor Cynthia Grant and Golf Scorecards, Inc.
Chapter Championship Final Results
Pro-Assistant Final Results
  Chapter Championship Historical
Senior Chapter Championship Historical
Pro-Assistant Historical
Mark Antonson just bought a house at North Bellingham GC and was looking to purchase a golf cart, so on a whim the night before the last day, he asked head pro Nathan Vickers to buy him 3 raffle tickets.  Sure enough, one was the lucky one and his golf cart searching was done!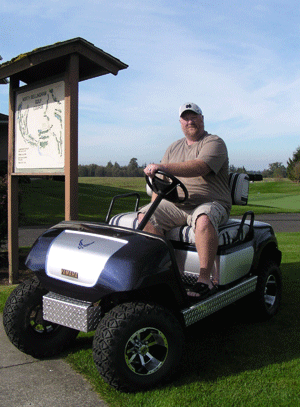 PGA Professional and US Marine Fred Jacobson completely refurbished the Yamaha cart and donated it to the Chapter for the raffle to benefit the Folds of Honor Foundation.  With late contributions from both Kayak Point GC and Cascade GC we surpassed our goal of $30,000!  Thanks go out to all the Chapter professionals and amateurs partners who participated in the pro-member series and donated to our Folds of Honor / American Lake Veterans Course Fund!