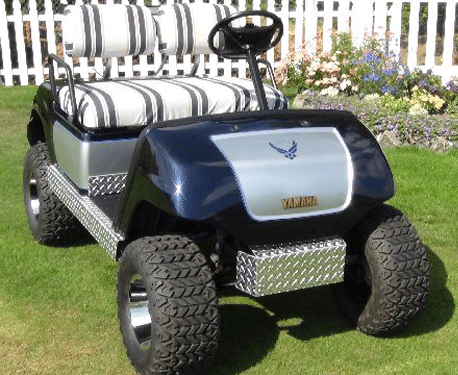 PGA Professional and U.S. Marine Fred Jacobson has done it again! He has donated this fully restored Yamaha golf car decorated for the U.S. Air Force to our Chapter for the 2014 Folds of Honor campaign!  The cart will have a top and windshield, and will be converted from gas to electric if the winner so desires.  Raffle tickets are again priced at $20 each and can be purchased at all upcoming pro-member events.  Professionals can also sell them in their shops by simply printing out tickets from the link below.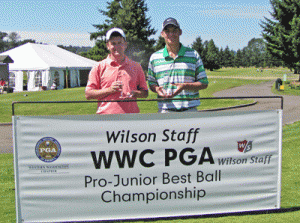 Assistant Tam O'Shanter professional Chas Holmes and junior Grant Cole made two eagles and eight bridies en-route to a tournament record 60 gross best ball in the 2014 Wilson Staff Pro-Junior Best Ball at Riverbend GC on August 6.
Meridian Valley teaching professional Brian Thornton and junior Alex Goodell won net honors with a sparkling 55.
Thanks go out to Riverbend GC for hosting the event and to Title Sponsor Dave Scholz and Wilson Staff for providing nice tee prizes for all the players.
2014 Cutter & Buck WWC PGA Pro-President
Presented By:
Pacific Golf & Turf – EZ-GO
Salish Cliffs GC
Thursday, June 5, 2014
Whidbey and Maplewood Teams Tie for Low Gross
Snoqualmie Falls Takes Net & 4-Man Honors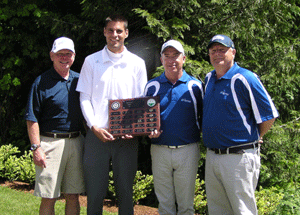 David Phay and Tom Ford of Whidbey G&CC tied with Mike Toll and Brian Espe of Maplewood GC at 6 under par 66 to win the gross crown in the 2014 Cutter & Buck WWC PGA Pro-President Championship.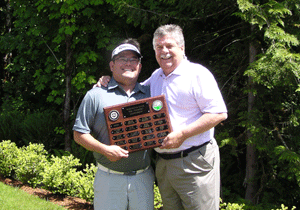 David Doty and Mike Hovey of Snoqualmie Falls GC repeated with the net crown for the second straight year, firing a sparkling 12-under par 60.  Along with Board partners Tom Reid and Lee Baldwin, they also won the 4-man team competition at 122.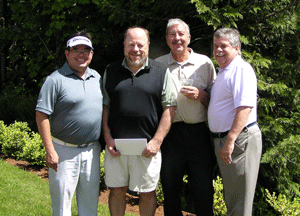 Thanks go out to Title Sponsor Bryan Dickson and Cutter &Buck; presenting sponsors Pete Trudeau and Eric Bowen of Pacific Golf and Turf/EZ-GO; and presenting sponsor Bryan Dickson and Maui Jim Sunglasses.  Thanks also go to David Kass and the  Salish Cliffs GC for hosting the event the second straight year.