---
WHEN REGISTERING WITH A MOBILE DEVICE YOU WILL BE PROMPTED FOR A 'GGID' – PLEASE USE THE FOLLOWING –
AWT23-24
---
FEES & ELIGIBILITY:
$50 One-Time Tour Registration Fee (goes into the 2024 AWT Tour Championship)
$20 Honey Pot collected and paid in cash at all events
Only WWC PGA  A8's & B8's with playing privileges are eligible to participate.  Other "Assistants" may be eligible, email Christian Ballard (Assistants Committee Chair).
Individual round registrations close at 3:00pm TWO days before the event.
POINTS & AWT TOUR CHAMPIONSHIP
Players/Teams will earn points at each event. 
At the end of the season, the top 30 professionals in the point standings will be eligible for the 2024 WWC PGA AWT TOUR CHAMPIONSHIP!
The "Tour Championship" will be an individual event with a "Staggered Scoring Start" based on the season point standings.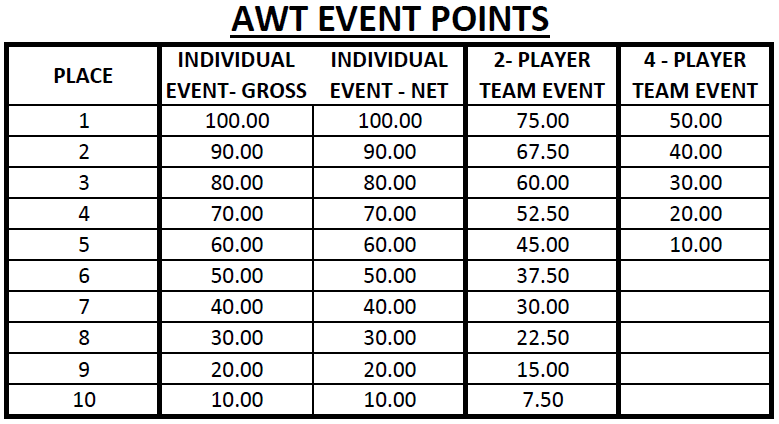 AWT TOUR CHAMPIONSHIP STAGGERED START
Point Rank: #1  |  Starts at: -4
Point Rank: #2-5  |  Starts at: -3
Point Rank: #6-15  |  Starts at: -2
Point Rank: #16-25  |  Starts at: -1
Point Rank: #26-30  |  Starts at: E
2023-2024 ASSISTANTS WINTER TOUR SCHEDULE
Schedule of Events
11/20 – Sahalee Country Club
12/18 – Wing Point Golf & Country Club
01/08 – Trophy Lake Golf & Casting
01/02 – The Golf Club at Newcastle
01/15 – Inglewood Golf Club
01/23 – Tacoma Country Club
01/28-29 – Connection at the Coast

Gearhart Golf Links & Astoria Country Club
(Competition Format – TBD)

02/05 – Seattle Golf Club
02/26 – AWT Season Finale – White Horse Golf Club

Individual Gross & Net w/skins & Staggered Start