WHEN REGISTERING WITH A MOBILE DEVICE YOU WILL BE PROMPTED FOR A 'GGID' – PLEASE USE THE FOLLOWING –
AWT21-22
FEES & ELIGIBILITY:
$25 One-Time Tour Registration Fee (goes into the 2022 AWT Tour Championship)
Maximum of 20 players per event – $20 Honey Pot collected in cash at all events
Only WWC PGA  A8's & B8's

with playing privileges are eligible to participate.

Professionals may register for up to four events.  One week prior an event, anyone may sign-up if there are openings.
POINTS & AWT TOUR CHAMPIONSHIP
Players/Teams will earn points at each event. 
At the end of the season, the top 30 professionals in the point standings will be eligible for the 2021 WWC PGA AWT TOUR CHAMPIONSHIP!
The "Tour Championship" will be a "Staggered Start Side-Pot" during the 2022 Pelzer Golf Supplies Washington State Assistants Championship.
Side-Pot funded by Tour registration fees and sponsors!  Estimated $2,000 side-pot!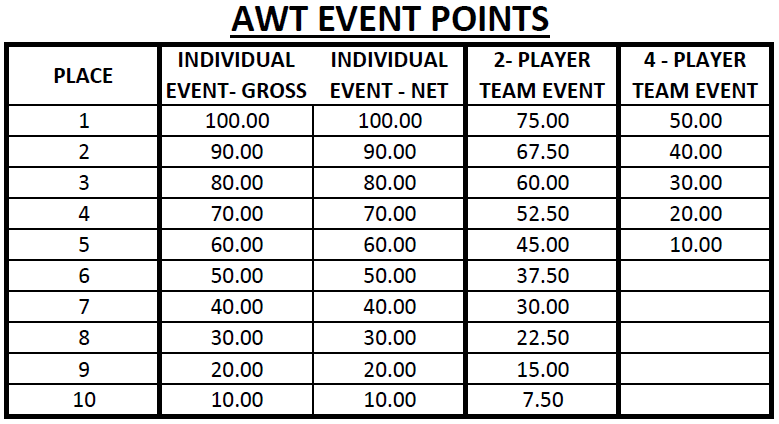 AWT TOUR CHAMPIONSHIP STAGGERED START
Point Rank: #1  |  Starts at: -4
Point Rank: #2-5  |  Starts at: -3
Point Rank: #6-15  |  Starts at: -2
Point Rank: #16-25  |  Starts at: -1
Point Rank: #26-30  |  Starts at: E
2021-2022 ASSISTANTS WINTER TOUR SCHEDULE
Monday, November 29th – The Home Course
Education Presenter:  Monte Koch
Honey Pot Format:  Blind Draw 2-Player Best Ball – Net Only
Monday, December 13th – Broadmoor Golf Club
Education Presenter: Monte Koch
Honey Pot Format:  Individual Gross & Net w/ Skins – Stableford Scoring
Monday, December 27th – Glendale Country Club
Education Presenter:  Marcus King
Honey Pot Format:  Blind Draw Foursome – Christmas Shamble (1G/1N)
Monday, January 10th – Everett Golf & Country Club
Education Presenter:  TBD
Honey Pot Format:  Blind Draw 2-Player Best Ball – Net Only
Tuesday, January 25th – Tacoma Country & Golf Club
Education Presenter:  TBD
Honey Pot Format:  Individual Gross & Net w/ Skins – Stroke Play
Monday, February 7th – Rainier Golf & Country Club
Education Presenter:  TBD
Honey Pot Format:  High/Low Draw 2-Player Chapman – Gross Only
Monday, February 14th – Salish Cliffs Golf Club 
Education Presenter:  TBD
Honey Pot Format:  Individual Gross & Net w/ Skins – Stableford Scoring
Pelzer Golf Supplies Washington State Assistants Championship
Monday, February 28th – The Club at Snoqualmie Ridge
Tournament Format:  Individual Gross & Net (AWT Tour Championship Side Pot)