2021 AWARD RECIPIENTS


2021 Golf Professional of the Year
Caleb Kraus – The Club at Snoqualmie Ridge
In 2021, Caleb took over buying at his facility. He has previously won Public Merchandiser of the Year in our Chapter, and his passion has not waivered. His shop is projected to do $750k in revenue this year. Understanding the increased difficulty to earn a good living within the PGA of America, Caleb's goal is to give bonuses to his assistants as they help increase merchandise sales. He hopes this will elevate his facility as a desired place to work.
Caleb's service resume is parallel to none serving in some manner every year since 2003. Additional to serving as our Chapter's President from 2018 – 2020, Caleb highlights his time leading the Player Development Committees. He was instrumental in developing the Growth of the Game Booth at the Seattle Golf Show, and he helped drive programs like PGA Junior League and Drive, Chip and Putt to the success they are today. 
Although he doesn't personally teach, he helped create the platform for his teaching staff to grow Operation 36 at his facility. While under his watch, their Operation 36 program has grown to 100 juniors. They also introduced a Women's Operation 36 program that has grown to 50 participants further increasing their Women's Club participation.
It cannot go without mention that Caleb and his staff help execute the Greater Seattle Boeing Classic at their facility annually. He is involved in providing staffing and support for the pro-am and fundraising events. Caleb properly represents the value of working with a PGA Professional to the Champions Tour staff every year.


2021 Assistant Professional of the Year
Brian Bussinger – Chambers Bay
Brian Bussinger has been a top nominee for this award two years in a row. His elevated role as 1st Assistant Golf Professional at Chambers Bay was even more integral in 2021. He has his hands in everything from taking over merchandising, managing memberships (over 800 members), helping tournament operations (2021 U.S. Amateur Four-Ball and many other local championships), leading golf operations and helping grow the game.  
Brian certainly has his hands in a lot of player development, from PGA Junior League, Social Golf events, and the Academy's veteran program Salute Military Golf Association beginner golf clinics. Brian's Chapter service continues to grow as well along with his participation in the PGA LEAD and serving on the Chapter's Awards Committee. With his commitment to being present at work, travelling to the PGA National Annual Meeting in Wisconsin this year shows his dedication to his association.
In addition, Brian has become the full-time buyer for the facility.  This is a major undertaking for a facility that has a robust retail outlet.  While his predecessor certainly did most of the Spring pre-book, we know the difficulties Brian faced to chase scarce products to fill the shop for Summer/Fall while also putting together his buying plan for 2022.  At a traditional public facility this would not be much concern but it can't be overlooked how important it is for a property like Chambers Bay as your facility works towards the planning of more USGA championships (host site for the 2022 Women's Amateur). It is our assumption that Brian will no doubt be a candidate for Merchandiser of the Year Public Facility Award next year.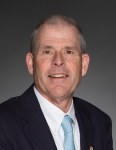 2021 Bill Strausbaugh Award
Doug Doxsie – Seattle Golf Club
Doug Doxsie's systematic approach for hiring and mentoring his Assistant Golf Professionals speaks to why he is deserving of this award. At Seattle Golf Club, Doug makes it his personal responsibility and obligation to ensure that his assistants "1) achieves their PGA membership, 2) develop their skills to be ready to get their own Head Professional or other PGA career path employment and finally, 3) to help them realistically evaluate whether they can achieve a career in this business." With this approach, Doug has mentored 16 professionals that have gone on to become a Head Professional or General Manager. In addition, he has had several other former assistants move on to be coaches or PGA like administrators.
When it comes to serving his fellow members, Doug is a "PGA of America advocate and bleeds PGA blue!" Since winning this award in 2017, Doug has been chosen as our District 14 Director and finished his two-year term as the Chair of the Section Hall of Fame Committee. He is also more involved in supporting the Chick Evans Caddie Scholarship program. On top of helping with fundraising efforts, Doug helped start and structure the Seattle Girls Caddie Academy. His program has continued to be a huge success, impacting the lives of several juniors every year.
Doug also continues to support growth of the game through his club's junior program (35-50 active participants and PGA Junior League (26 players). Although he acknowledges the difficulties of growing junior golf further due to the age demographics and location of his facility, he is proud of where his program is today knowing it was non-existent when he started at Seattle GC.


2021 Teacher of the Year
Jeff Coston – Semiahmoo Golf & Country Club
Jeff's teaching philosophy is "from a position of physics and geometry rather than tips and opinion." He teaches a proper swing plane and club face in the "Hitting Zone." As a proven player himself, he takes a holistic approach stressing the importance of technique, scoring, passion, purpose, on-course strategy, and short game specifics. His teaching philosophy is marketed well through Twitter and Instagram which contributes to his ability to teach several online lessons each week.
Jeff prefers individual lessons where he can create a relationship with his students. His strength comes from his teaching system. Students go through a player interview, observe, evaluate, execute a plan to achieve the specific goals. He gets excited when his students achieve their goals after putting them through his system. Jeff also teaches many golf schools throughout the year partnering with notable instructors, such as, Mike Bender, Mike Adams, Mike Bennett, and Andy Plummer.
His student's resumes start at elite junior champions and move to the Canadian, LPGA, PGA, and Champions Tours. Several fellow PGA Professionals also seek out mentorship for their own teaching businesses. In 2021, Jeff gave three teaching educations through the Section's Staying Involved Webinar series. These were one of the most attended educations this year speaking to the respect his peers have for him. Jeff Coston's success as a teacher and player, in addition to his leadership within the Chapter, makes him deserving of this award.


2021 Player Development Award
Alex Dunlop – Pacific Northwest Golf Academy
As a past recipient of the Teacher of the Year award, Alex Dunlop is no stranger to Player Development.  He oversees 5 instructors at Pacific Northwest Golf Academy and since 2019, they have welcomed over 2000 golfers into the facility and have conducted over 3000 lessons.
The Academy includes 2 indoor Trackman bays, 1 outdoor Trackman, indoor putting green, boditrak pressure pad, Hackmotion technology and access to the grass tee through a partnership with Newcastle Golf Club.  Housed within the Academy is also a fitness area that is further bolstered by a partnership with Kutting Edge Fitness.  Having all of this under one roof creates the perfect environment for teaching and developing golfers of all ages and abilities.  
Alex offers a "Full Game Assessment" which is a comprehensive look into someone's golf game.  It begins with an evaluation of their fitness using TPI assessments, and moves into a 60 shot Trackman Combine.  The results are evaluated and a lesson plan is created to help with improvement.  Students can run the evaluation again and track improvement.  
In addition, Alex also boasts 60 kids in his Junior Academy that range from age 8-18 that are spread out in 11 different classes based on ability.  Alex has found that having kids playing with other kids of similar ability and goals creates great competition and motivation to get better.  "In 2020 we had 11 kids at the WJGA State Championships and in 2021 we had 8. In that time span we've had 2 state champions, 6 district champions and over 30 kids qualify for the district championship. We've had wins at almost every junior level. AJGA, WJGA, US Kids Tour, Rocky Mountain Junior Tour, and Future Collegiate Tour."


2021 Youth Player Development Award
Ben Talbot – Meadow Park Golf Course
Ben Talbot continues to be in the discussion when it comes to the Youth Player Development Award.  He has been a close second the last two years and has dedicated the majority of his time to Youth Player Development.  His time at Tacoma Metro Parks at Meadow Parks Golf Course has resulted in a huge boost to the excitement of Junior Golf.  He is involved in the development, marketing, registration and overall execution of the programs at his facility.  He believes in building passionate golfers that are involved and was able to accomplish this by using existing programs like the First Tee, but also introduced new programs such as the full day PGA Camp and Tacoma Junior Open, in addition to beginner level junior programs. 
Not only is Ben helping to build young golfers, he is also helping to build teachers.  "At our facility we have five contracted instructors, various First Tee coaches, and three PGA associates in the golf shop. Working to get all of them involved in some way with our programming as well as being a mentor to those who need it has been an important part of my job as well as a key to our programming's success this year."   
Programs such as PGA Junior League, Golf Camps, Clinics, and tournaments have flourished under Ben's watch and his dedication to Junior Golf is only matched by his desire to provide these juniors with a positive learning environment.  "My vision for the future of junior golf is creating a place where juniors can feel welcomed and rewarded. Junior sports, in general, is a space of high pressure and needing quick results. I see a future where juniors can gain autonomy in what they do on the golf course and can find satisfaction in the constant progress."


2021 Patriot Award
Joshua Cantrell – Moose Run Golf Course (Alaska)
Joshua Cantrell is the epitome of a professional deserving of the Patriot Award. He is both the manager of a military golf facility, Moose Run Golf Course in Alaska, and a veteran himself. His mission is to provide for the moral welfare and recreation of active-duty members and their family, retirees, and veterans.
Joshua helps run eight specific tournaments catered to his military community, including Army-Air Force Match Play, Summer Solstice, Red White & Blue, Arctic Valley Open, 1 Person Scramble, Par 3, Air Force Birthday Bash & Ironman tournaments. 
He is committed to growing the game in his military community by teaching eight junior camps, six Get Golf Ready clinics, and two demo days. His PGA HOPE lessons for VA Vocational Rehabilitation veterans have truly impacted lives. Many of these veterans aren't able to leave their quarters until they graduate. After introducing them to the game, Josh says, "Several individuals have said that golf will be a very helpful and healthy addiction that will keep them off drugs. Everyone of them stated that the few hours spent at the golf course was the highlight of their week and they continually looked forward to the next week."
Joshua believes that being appreciative of living in a free society is what inspires PGA Professionals to support and contribute to the efforts in helping the military and it's veterans. Josh says, "the most impactful thing you could do for a veteran or military member is just simply say "Thank You for Your Service" and then treat them like everyone else." 
To cap it all off, Joshua has hosted over a dozen fundraisers supporting military funds. The highlight is the Alaska Folds Of Honor Championship that raised $15k for the Folds of Honor. Josh helped procure donations, set up for the event, played in the event, and ran the auction.


2021 Professional Development Award
Monte Koch – PGA National Headquarters
In the last year, Monte has been the lead presenter in over a dozen Staying Involved Webinars, helped recruit over 20 professionals to be panelists over six virtual educations which he moderated, and hosted several other financial and continuing education webinars.
Although Monte is employed by the PGA National as a Career Consultant, his dedication and service to his fellow members through delivering these educations is not part of his job description. He does this above and beyond his job and has been recognized by many of his peers for this.
In addition, Monte elevates the image of the PGA Brand by hosting a podcast where he provides further education by interviewing "guest legends". He also writes at a Section and National level telling success stories and best practices of members who are "winning". Monte always strives to prove the value of the PGA Professional, and he hopes these articles inspire members to "step out and go for it".



2021 Merchandiser of the Year – Private
Tim Feenstra – Broadmoor Golf Club
Nominated by multiple peers, Tim Feenstra stands out among the others. His shop is always spotless and beautifully presented. Incorporating new Seattle Kraken gear, a golf club trade-in program, and promoting on Instagram are some of his unique strategies that helped bring his revenues to an all-time high while maintaining a great margin. Projected revenues in 2021 are $590k (16% increase over last year) with $29.50 dollars per round.


2021 Merchandiser of the Year – Public
Nathan Vickers – North Bellingham Golf Course
Nathan Vickers is well deserving of this award for his passion and adversity. He is projecting almost $300k in revenue even with the Canadian border being closed limiting his customers. This is almost $75k in growth from 2020 and $95k more than 2019. 
One of Nathan's biggest reasons for growth is his mindset. He thought that if golf retailers can sell a lot without a golf course, then why couldn't he. In addition to selling complete box sets to meet the demand of new golfers coming to the game, he implemented a unique promotion giving away an afternoon round if you spent over $100 in stock merchandise only. This helped him achieve $7.39 in dollars per round while maintaining very healthy margins (27% hard good and 40% on soft good margins).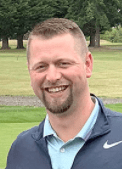 2021 Merchandiser of the Year – Resort
Chad Wagner – The Cedars at Dungeness
Chad is recognized for being very passionate for his job and spends the majority of his time merchandising. Despite COVID-19 restrictions, Chad did not skip a beat. Unique decisions to focus on hard good sales, add a larger product mix, and pivoting his tournament/leagues to both meet his players' safety needs while still encouraging sales helped his projections meet all-time highs. He projects 2021 revenues to be $390k, $10.83 dollars per round, and 31.26% hard good and 44.22% soft good margins.